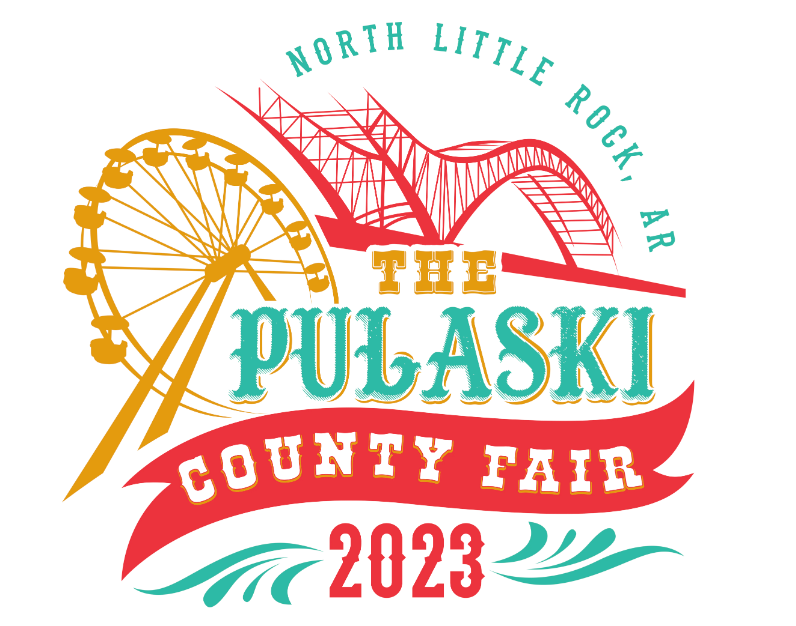 North Little Rock Proudly Announces the 3rd Annual Pulaski County Fair at North Little Rock Riverfront Park, May 19-29, 2023
NORTH LITTLE ROCK, AR – North Little Rock is thrilled to announce the return of the Pulaski County Fair presented by Oaklawn Racing Casino Resort, now in its 3rd annual edition at the scenic NLR Riverfront Park, situated along the picturesque banks of the Arkansas River. This extraordinary event is set to captivate visitors with nine days of unparalleled fun, delectable food, and captivating entertainment for the entire family.
Scheduled from May 19-29, 2023, the Pulaski County Fair will open its gates daily from 5 pm to 10 pm on weekdays (closed on Monday, May 22, and Tuesday, May 23), 12 pm to 11 pm on weekends, and 12 pm to 8 pm on Memorial Day. Admission to the park is $5 for adults, while children 12 and under can enter for free.
This year, attendees can revel in a delightful assortment of exhilarating rides by purchasing an all-day wristband for $25, granting unlimited access. Alternatively, single-ride tickets can be obtained for $1 each. Take advantage of the pre-sale all-day carnival wristbands available for $22 at the North Little Rock Welcome Center, conveniently located at 600 Main Street, Suite 120, North Little Rock. The Welcome Center is open Monday through Friday from 9 a.m. to 4 p.m.
The Pulaski County Fair showcases the P.B.J. Happee Days Shows carnival midway, featuring thrilling rides, captivating games, a petting zoo, an array of novelty and arts vendors, delectable food options, and a selection of adult beverages.
Additionally, this year's fair will offer an exciting lineup of live entertainment on the main stage from May 25 through May 29. The schedule includes a Thursday night kick-off with Cliff & Susan, Friday night Rock & Blues Night, Saturday's much-anticipated Official Yadaloo Country Music & Arts Festival, Sunday's vibrant Hispanic Heritage Day, and a grand finale on Memorial Day featuring a Military Tribute and Open Jam.
Susan Erwin Prowse, one of the organizers, expressed her enthusiasm for this year's fair, stating, "In our 3rd year, we've added an additional weekend and Memorial Day. There are more rides and new vendors while bringing back the popular petting zoo, multi-cultural entertainment, and of course great food and fun for all ages."
A portion of the proceeds from the fair will be donated to North Little Rock Parks & Recreation, supporting their ongoing mission to provide exceptional recreational opportunities and services for the community.
Save the date and make sure to visit www.thepulaskicountyfair.net to discover more about this unforgettable experience at the 3rd annual Pulaski County Fair!
Social Media / Hashtags
Facebook / Instagram: @thepulaskicountyfair
Twitter: @pcountyfairar
Hashtag: #thepulaskicountyfair
PULASKI COUNTY FAIR ENTERTAINMENT SCHEDULE 
The Pulaski County Fair 2023 kicks off on May 19, and the following weekend we start the live entertainment! Check out our lineup and what we have planned this year!  

Entrance into the fair is $5 (12 & Under Free), except for Yadaloo on Saturday, May 27. You can purchase a ticket to Yadaloo at www.yadaloo.com 
𝐓𝐡𝐮𝐫𝐬𝐝𝐚𝐲 𝐊𝐢𝐜𝐤 𝐎𝐟𝐟 
7-9 Cliff & Susan
𝐅𝐫𝐢𝐝𝐚𝐲 𝐑𝐨𝐜𝐤 & 𝐁𝐥𝐮𝐞𝐬 
6:30-7:15 | Jess Hoggard Band 
7:30-8:30 | Fonkey Donkey 
8:45-10 | Oreo Blue 
𝐒𝐚𝐭𝐮𝐫𝐝𝐚𝐲 Yadaloo Music & Arts Festival 2023 
2:30-3 Kish Moody 
3:15-3:45 Huckleberry Jam 
4:00-4:45 Eli Adams 
5:05-5:50 Cam Shelton 
6:15-7:00 TRIPPP 
7:30-8:30 Buddy Jewell 
9:00-10:15 David Adam Byrnes 
𝐒𝐮𝐧𝐝𝐚𝐲 𝐇𝐢𝐬𝐩𝐚𝐧𝐢𝐜 𝐓𝐫𝐢𝐛𝐮𝐭𝐞 
4-6 DJ: Oscar Jimenez 
6-6:30 Shaw Revolver 
6:45-7:45 Grupo Prohibido 
8-9:30 Gauyuverz Musical 
𝐌𝐨𝐧𝐝𝐚𝐲 𝐌𝐞𝐦𝐨𝐫𝐢𝐚𝐥 𝐃𝐚𝐲 𝐎𝐩𝐞𝐧 𝐉𝐚𝐦 
3-6 Open Jam lead by Cliff & Susan | Military Tribute